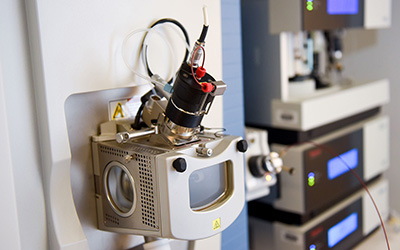 METRIC Provides Access to Instrumentation
Researchers can now schedule access to mass spectrometry instrumentation through an online system offered by METRIC, the university's new Molecular Education, Technology, and Research Innovation Center. Nuclear magnetic resonance and X-ray crystallography instruments will be fully integrated into the system this summer.
It's no surprise that 99.9 percent of scientific papers require some form of measurement for data collection. However, it's expensive to buy, maintain and update scientific instruments, especially for individual departments or research faculty.
METRIC aims to alleviate this economic burden by making state-of-the-art, scientific infrastructure and instrumentation such as mass spectrometry, magnetic resonance and X-ray crystallography available to all departments and faculty.